Latest Wall Decor Trends
Wall decor is a beautiful way to add soul to a drab room. If you haven't renovated your home in a while but don't want to spend a fortune fixing up an entire room, try making changes to just one wall. You'd be surprised how much of a difference specific wall decor ideas can make to a space.
Wall decor can be anything from wall paint texture, wall art, and exposed bricks to hand painting a wall or adding a statement wall fixture. You can spend less and still get a really dramatic effect. It all depends on what kind of decoration ideas you choose and how you implement them.
Every year, new trends keep emerging, and if you are interested in revamping your wall, then you should check out these top ideas that will be popular today.
1. Exposed Brick Wall Decor
Exposed bricks have always been on trend, and they will surely continue to interest interior designers next year. If you are building a house, the idea is to leave one wall unplastered or painted so that the red bricks are visible. It looks dramatic when the rest of the space is clutter-free and painted in neutral colors. This type of wall decor is a great backdrop for hanging art or picture frames.
2. Wall Decor with Floor to Ceiling Shelving
Shelves and storage space are really important, especially if you are someone who collects a lot of unique items that you want to display. In this case, the idea of wall decor is simple. An entire wall has been created with a floor-to-ceiling shelving unit that gives it a practical and trendy look as well as an aesthetic appeal. You can store books, home decor items, photo frames or even toys here so that they get the right amount of attention.
3. Abstract Painting Wall Decor
If you want to wall decor on a tight budget, all you need to do is invest in a bright, bold and large abstract painting. You can make it yourself by downloading it for free, printing it, and framing it. This works great if your wall color is neutral. Paintings, as wall decor, bring some color to the area and can instantly transform a room. try this one.
4. Bright and Colorful Wallpaper Wall Decor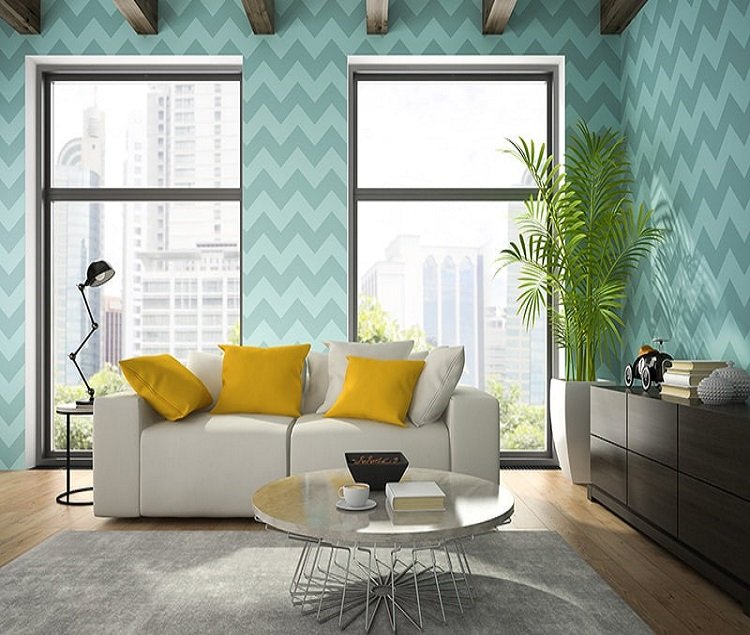 Wallpapers have always been one of the easiest ways to create wall decor on a budget. There are literally thousands of designs, prints and colors to choose from and the best part about this type of decor is that you can do it yourself without going to an expert. If you have a cool and drab room, you can spice it up by adding a bright wallpaper effect around the walls. Remember that too many designs and colors inside a room can spoil your look. So apply wallpaper carefully.
5. Stone Tile Wall Decor
Stone-tiled wall decor is really on trend these days and can give a room a deep and warm feel. It looks great when you have other traditional decor around your house, like a piece of antique furniture. Stone tiles can be used in only one area of the wall or to cover the entire surface. Stone tile wallpaper replicas are available, which look exactly like stone but are cheaper to install.
6. POP Wall Decor Art
Plaster of Paris (POP) is one of the best friends for interior designers as it can be molded into any shape and design of your choice and can be permanently mounted on walls to create decor easily. In this example, POP is used to create window-like frames that are attached to the wall to define the final look. This wall decor can create a 3D effect on the wall and is easy to try yourself.
7. Graffiti Art Wall Decor
Some people want their home to reflect their style and ideas, and if you are a complex, perfection-loving and bold personality, then what about filling a wall with graffiti art and turning it into your one of a kind wall decor idea. Have an idea? If you're an artist, try doing this as a DIY project. Otherwise, there are plenty of local graffiti artists who would be willing to take on the challenge for you. Give it a try, and your wall will definitely be the first and last thing people see when you come to visit.
8. Mirror Wall Decor Ideas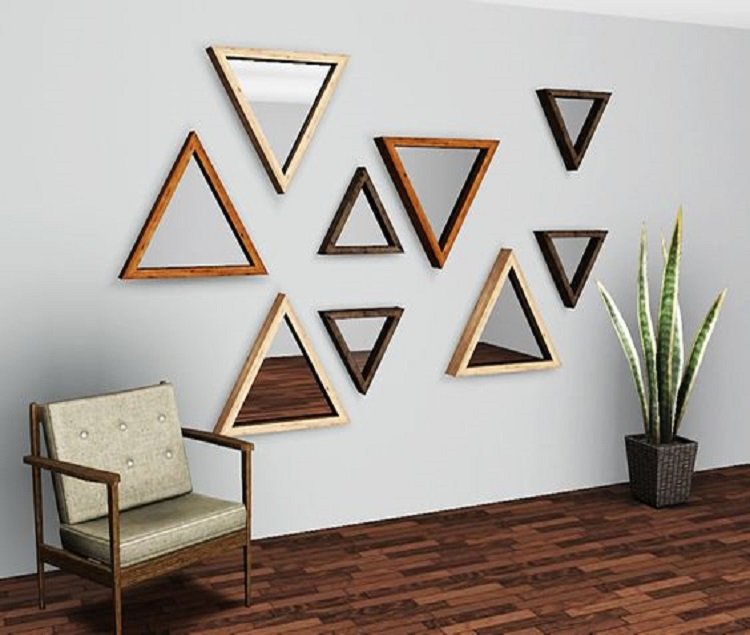 Let's say you have a small room and you want to give it an expanded look. There's nothing like mirror wall decor to achieve this. Mirrors reflect the area of the room and make it appear larger than it actually is. There are so many decorative mirror options available now. You can choose from jute frame mirrors of your choice to lace work and hand-painted ones to antique-look mirrors.