Modern Living Room Partition Ideas With An Open Floor Plan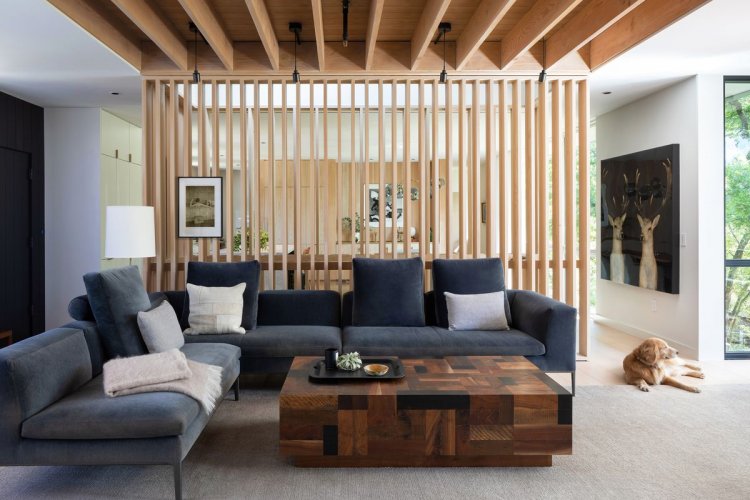 Give your abode an easy and functional makeover with a suitable living room divider from our list of modern partition ideas for the living room.
The open floor plan has become a trend these days. They are fresh and exciting to live in but equally challenging to design. An open layout requires space to be defined and your living room separated to create a dining area, reading area, entertainment area or even a chatting section. Hence, partitions and dividers keep your living area from looking like a congested area. The right partition design can not only divide a space exquisitely but also create clean lines and enhance the aesthetics and visual appeal of your home. With incredible ideas of modern partitions for living room, you are sure to find something that suits the look and functionality of your open layout.
Modern Partition Ideas for Living Room
Check out these ideas for modern partitions for living room that will help you design a customized space with added privacy and ultra-luxury.
Wooden Frame and Plant Mantra
You can never go wrong with wooden dividers when revamping your home decor. This wooden frame with different sections adds to the lovely neutral theme in this living area. Display your stunning collection of plants within sections of this partition design to serve as a focal point in this open layout.
TV Unit Separating The Living Room And Dining Area
You need a multi-purpose partition design in your open floor plan to look practical and stylish. Design a wall, half cement and half wood panel, between the seating area and the dining area. Install a TV unit on the wall to make the most of the available space and give a luxury feel to your room.
The Metallic Luster and Gold Finish is a Treat to The Eye
Metallics have a luxurious allure that can add an instant dose of luxury and glam to a decor. Transform the simple interior of your open layout with metal frame dividers painted in gold. To spice up your living room decor, add a chandelier and some furniture in the same gold finish.
A Bamboo Wall for Isolation
Give your modern decor a natural flair with a partition made of bamboo. This tree-like divider grabs all the attention and lends a relaxing and peaceful vibe to your decor. It gives a rustic look to the decor and ensures durability. Choose thinner bamboo stalks for a more delicate look.
A Folding Screen With a Dramatic Print
Add some privacy to your living and dining areas with a screen that speaks elegance. This folding screen with a dramatic print looks bold and fabulous in this living area. The good thing about folding screens is that you can easily move them according to your needs. They are available in a variety of materials including wood, stainless steel, bamboo, leather, fabric and plastic.
The Subtle Glare of a Glass Divider
A dose of sparkle can liven up a room's decor. Create a sense of privacy in your open living room with a wood-framed textured, frosted glass divider. Glass partition designs keep the atmosphere light and airy and add a luxury vibe to the decor.
A Double Sided Wall of Fire and Luxury
A fireplace adds the ultimate warmth and luxury to modern home decor. Create a double-sided wall between the living and dining area and install a fireplace with a sleek frame on the wall and a storage shelf above. Decorate the shelf with intricate pieces to glam up the space while bringing functionality and practicality.
Floral Roller Hanging Sheet
Roller screens aren't just limited to windows. You can use them as dividers in your living room with an open layout to separate the living and dining areas. These semi-transparent roll-up hanging screens with floral prints can beautifully create privacy and add a refreshing dose of elegance.
Wooden Dividers With Ample Storage
Wood partition designs are most famous for open floor plans. However, having abundant storage space is a top priority among home decorators. Customize your own with a variety of drawers, shelves, a hanging closet section, and a rack for wine bottles. This multi-functional divider is a practical decision for your home decor.