Kitchen Furniture Design Ideas Trends
The kitchen is the heart of the family. This is where family members spend a lot of time together. Just because of this, you should be very careful about the kitchen furniture design you choose while building your new home or renovating an old space.
Kitchen Furniture Designs Latest Trends Work with different materials other than wood. Today, you can choose acrylic, sunmica and even aluminum and steel as part of your kitchen furniture design.
Kitchen Furniture Design Ideas You'll Love
Below we have enlisted the best and trendiest designs from around the world. Read on to know more:
Open Kitchen Furniture Design
Out of the few kitchen furniture designs, the open kitchen style is gaining popularity of late – the open kitchen style with its spacious feel and the airy setting is best suited for living here. Best suited for homes that have a large area for kitchen and dining space, this design is simple and inviting.
This kind of interior setting has space for food and a kitchen island, giving you a chance to be quirky and experimental. As you can see in the image above, you can play with the latest trends in kitchen furniture design, and use a variety of seating options that you like.
While the island may have chic long chairs with yellow velvet upholstery, the dining set may be of a more sleek design.
Green and White Kitchen Furniture Design

Green and white kitchen furniture designs are both stunning and highly rated. It is also a favorable color mix for the kitchen area as per Vastu Shastra. The green color is known to bring positivity to the place where the family meal is prepared, and the white color in the kitchen area brings peace and tranquility to all the residents of the house.
So, if you are planning to keep your kitchen furniture design in the latest green and white colors, feel free to take inspiration from the image above. A chic look was created using emerald green cabinets that match remarkably with the ivory-white countertop and kitchen island – this design sense is simply genius! For a finishing touch, add metal knobs to cabinets and match them to the color of the fittings.
Wooden Kitchen Furniture Designs Latest
An evergreen choice for kitchen furniture design, wood has stood the test of time when it comes to reliable interiors. Depending on your budget, you can choose from a variety of wood options like ply, teak, mango, oak, cherry, mahogany, and more. Each will have its own distinct grain and color—you'll be spoiled for choices.
When choosing your wooden furniture design for the kitchen, keep other aspects of the space in mind, such as the color of the floor and walls as well. Like the image above, the deep solid wood used for the cabinets works in harmonium blending with the golden oak shade of the floor. And the white countertops match the shade of the walls perfectly – giving the entire kitchen a classy and classic look.
Industrial Kitchen Furniture Designs
This is a new-age concept, this kind of kitchen furniture design is the latest in the industry. It originally came down to a concept for a large open kitchen with high-activity areas – where chefs and workers needed to find everything in seconds. But, today, thanks to its minimalist appeal, this latest kitchen furniture design concept is also finding its way into family kitchens.
As you can see in the image above, the storage is out in the open, and the racks have spacious shelves with all the frequently used materials and tools on display. There is a sink in the middle island, and the only space below it (the trash space) is the door.
Sleek Black Kitchen Furniture Designs Latest
Posh, swanky and drop-dead gorgeous are the words that first come to our mind when we see this sleek, dark-colored kitchen furniture design. The image above shows a wooden modular kitchen with LED light fixtures above the countertop. The cabinets are chic matte black and look stunning when paired with a maple wood wall. The look is complete with wooden flooring in the kitchen.
Black is a powerful color and symbolizes mystery and this is one of the reasons why it looks so appealing in a kitchen setting. Having this shade in your kitchen can give your kitchen a timeless and sophisticated look, making it a popular choice today.
However, always remember that if you choose black as the dominant color in your kitchen, balance it with texture and pattern to avoid a one-dimensional look and spruce up the space.
Modern & Luxury Kitchen Furniture Designs
A high-end kitchen with the latest kitchen furniture designs in trends and concepts - the image above is an inspiration to all of us. From the swanky modular setting with in-built LED lights in the cabinets to the open shelves to house the greenery of the space – everything about this kitchen furniture design reflects modern luxury.
A Few Things We Love About The Above Kitchen Furniture Designs
- Top-notch equipment that is not only cutting-edge but also good-looking.
- Special magnetic doors and drawers without knobs or handles.
- Chimney cover that matches the cabinet above it.
- Geometric chandelier on the ceiling.
Farmhouse Rustic Kitchen Furniture Designs
A small L-shaped counter, open shelves, and mismatched seating are all things that come together to make this lovely farmhouse kitchen furniture design. The farmhouse kitchen is the extra kitchen for the family, so usually, we dump in our old utensils and crockery and even furniture.
But it does not matter. If you have an eye for the right aesthetics, you can have a space with mismatched kitchen furniture designs and still make it look beautiful. As in the image above, the design of the table does not match that of the chair or stool, but together they complete the seating area which is not awkward but good-looking.
Beige Kitchen Furniture Designs
Neutral colors have their own allure, and beige is the definition of neutral in the color world. According to feng shui, colors such as beige and oatmeal bring a harmonious feel to the space, making it welcoming and inviting to all members of the family. Beige, when used in the kitchen, brings stability to everyone who lives in the house. Beige is reliable and flexible - mix it with a lighter tone or decorate it with something contrasting; You are sure to get kitchen furniture designs in the latest trend for sure.
If you're looking for kitchen furniture designs in beige, look no further – the image above serves as inspiration for a permanent remodel.
Kitchen Furniture Designs For Small Spaces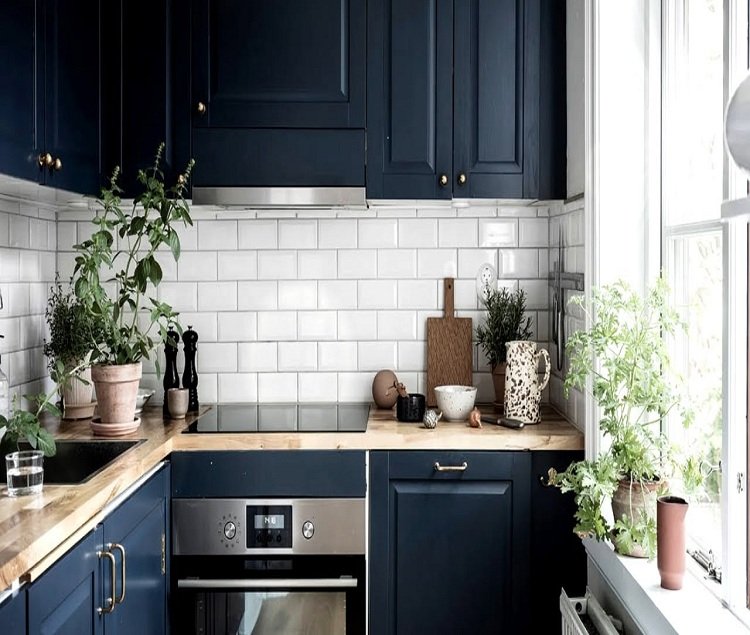 Kitchen furniture design for small spaces can be complicated. You need to make sure you don't go overboard at all and keep everything to a minimum. It's even more difficult if you need to fit in the seating area as well. Mostly designed for small apartments or homes with really small kitchen space, these kitchen furniture design latest ideas need to be bookmarked by anyone with less room.
This type of setup makes use of too small of a home for the kitchen area. A long L-shaped island is a home to the sink at one end, the baking oven at the other, and an inbuilt stove somewhere in between. To avoid the possibility of damaging collisions, all storage has a sleek finish with magnetic locks.
In place of an island, this setting makes use of a table attached to the wall with sleek metal bar chairs – giving you enough room to sit and eat after cooking.
Yellow Kitchen Furniture Designs Latest
Yellow and white colors are approved by Vastu Shastra for kitchen furniture design. Yellow is the color of happiness and positive energy; It makes a space feel alive and inviting. Use yellow color in the design of your kitchen furniture as it always inspires people to visit this part of your home.
The white color not only matches the beauty but also adds value to the ambiance of the kitchen. As mentioned earlier, the white color in the kitchen brings peace to all the family members living in the house.
The image above is a good representation of how you can use two colors in the latest home upgrade of your kitchen furniture design.
L Shaped Kitchen Furniture Designs
Nothing new in the world of kitchen furniture design, the concept of L-shape is found in various Indian homes. Thanks to its practical design, the L-shaped design provides ample space for those working here.
The kitchen furniture design from the image above has a royal blue color coat on a modular setting. This one built-in oven and stove save space, as do the large-fit sinks under the L. The microwave top is placed on one of the cabinetry to make the best use of the space of the kitchen, and the wall behind the stove also has open shelves to store spices and a bar for hanging spoons.
Stainless Steel Kitchen Furniture Designs Latest
Suitable for outdoor, residential and industrial kitchens, stainless steel kitchen furniture design, with its attractive look and cost-effectiveness, is here to stay. This style is strong and durable, easy to maintain and requires minimal repair, making it an obvious choice for large outdoor kitchens.
As you can see from the image above, stainless steel kitchen furniture designs are used in a small kitchen space in an apartment. All cabinets are made of material and have glass on their doors; The drawer has no knobs and has a chic look. Attached to the tall cabinet on the side is a nice white wine rack, perched atop a granite counter.
Modern Kitchen Design Tips
When considering kitchen furniture design, be sure to find the right height for the microwave.
- Always plan the landing space around appliances such as ovens and microwaves.
- Choose kitchen colors carefully - Beige, yellow, green and white are popular colors for kitchen furniture design. However, a white kitchen needs extreme cleaning at all times.
- Focus on ventilation - Either include a chimney in your design or at least put vents in the kitchen.
When looking at kitchen furniture designs, choose a location where the stove and sink are far away from each other - a feng shui rule you must follow.
Vastu for kitchen
Vastu Tips to Keep in Mind While Designing a Kitchen :
The ideal direction for kitchen location is South-East as Agni, the lord of fire predominates in this direction. North-west is also an ideal direction for the kitchen. Kitchen should never be constructed in North, North-East and South-West.

Objects representing fire, such as cylinders, gas stoves, ovens, microwaves and toasters, should always be placed in the south-east direction.

Cooking range and washbasin including oven and gas cylinder should not be placed on the same platform or parallel to each other.

Wash basin, water pipes, washing machine and kitchen drain should be in North or North East direction.

The fridge should be in the south-west direction.

The storage of grains and other stocks should be in the south-west as it invites good luck and prosperity.