Best Design Ideas & Vastu Tips For Master Bedroom
Houses are made of bricks, but houses are made of love and colors. When considering master bedroom designs, keep in mind that your bedroom is undoubtedly the most unique and personal space in your home. It's a space that many of your guests will never see, but it deserves a lot of attention. This is where you relax, reflect on your day, or simply read a book. So it only makes sense that your bedroom design is unique and has an appropriate color palette and setting. Your bedroom should perfectly showcase your style while blending in with the overall aesthetic.
Since your master bedroom is the de facto master of your entire home, it should look the part. If you are looking for master bedroom ideas, you have come to the right place. Home decor furniture you want a total makeover or just some styling ideas, these creative designs will narrow down to the perfect master bedroom design.
Best Design Ideas & Vastu Tips for Master Bedroom
Find out below about our interesting master bedroom design ideas to help you transform it into a dreamy space:
1. Contemporary in Style


If you like to keep up with the latest wooden furniture for home, then this contemporary master bedroom design might be for you. As the word implies cold and sterile, contemporary design can be inviting and sleek when combined with appropriate textures, colors, and furniture. This room features a luxurious platform bed in front of wood panels that reach up to the ceiling. The seating and reading corner by the window is ideal for afternoon reading. Two giant pendant lights, one on each side of the bed, tie all these elements together and make quite a statement!
2. Have a Theme for Your Master Bedroom Design


Bedroom themes aren't just for kids, just like animated movies are loved by adults too. As adults, we often opt for plain old boring master bedroom ideas and decor. However, a great design hack is to have a theme for your master bedroom. Using color and pattern selectively unify a room and lends a calming atmosphere. A pale wall color, geometric printed sheers, a large rug, and soft white bedding lend a vintage Indian feel to this room. A white lounge chair blends in with the vintage-style headboard and side tables. The theme is fully completed by elegant table lights. This is an excellent choice for your bed design if you prefer a more subdued and chic look.
3. The Old Rustic Look as Your Master Bedroom Design
The hardwood floor and vaulted ceiling are undeniably the main focal point in this bedroom. It adds a glossy sheen to this bedroom and complements the décor. This master bedroom design has an extremely rustic look and a vintage feel, but also includes all the elements suitable for a modern lifestyle. The texture and color of the bed frame complement the neutral walls. If you like traditional bedroom design and decor then this should be your first choice.
4. Bring The Warmth of Wood Into your master room design
If you satisfy your current master bedroom design but think it could use a little more modern style, try something modern or new and out of the ordinary. Incorporate a reclaimed wood platform below that extends up one wall. This master bedroom idea will add a different charm to your master bedroom while also bringing in those warm fuzzy vibes.
5. An All White Master Bedroom Design


Try this master bedroom design with touches of color in the right places with white walls, white bed linens, white mirror design frames, and white sofa cushions. An all-white bedroom will not only give you a sense of space but will also keep you at ease. All-white bedrooms provide lots of space and allow you to add more elements to your master bedroom.
6. A Statement Bed in Your Master Bedroom Design
Bring some sparkle to your master bedroom with a statement bed. Options range from platforms to traditional four-poster beds design. Choose a bed design that adds class to your bedroom reflects your style and is comfortable. A dark wood platform bed with a full wood frame and leather cushioned headboard look regal in this setting. This bed design complements the rest of the room perfectly. If you prefer something more modern and understated, you can always go with a platform or four-poster bed with a chic headboard.
7. Repair Your Floors
When renovating or choosing your master bedroom design don't forget about the flooring for the house. Instead of using traditional materials such as marble, tile or granite, try something completely different. Tiger-striped hardwood flooring perfectly complements the entire space. Plus, attractive flooring can completely transform your master bedroom in one go!
8. Let There Be Light


Who can resist a crystal chandelier? Nothing is more depressing than a bedroom with only one tube light. Add a beautiful chandelier or several mounted lights to your master bedroom to give your bedroom options. The perfect bedroom lighting will not only brighten up your room but also make it feel bigger.
9. Incorporate a Reading Nook in Your Master Bedroom Design
If you enjoy getting lost in the pages of your favorite book or jotting down your thoughts, but don't have a quiet corner all to yourself, consider including a cozy yet vibrant reading corner as the best part of your master bedroom design. is included. It will add more personal touch to your room. Just add some eye-catching pillows, and you're good to go.
10. Get Creative With Your Master Bedroom Design Ideas
It is not necessary that everything should be filled in your wardrobe. You could always play hide and seek. Incorporate innovative storage solutions, such as a corner table with floating shelves, drawers, and cabinets, as a part of your master bedroom idea. These pieces of furniture not only help you store and display your belongings creatively, but they also add some fun to your bedroom.
11. Play with Pattern in The Bedroom
Designing patterns add an instant dose of dimension and interest to a room. Don't stick to just one pattern. Mix and match a variety of prints and styles to create a decor that speaks luxury and appeals to the eye. Choose contemporary prints for bedding and throws and soothing floral prints for curtains in various color combinations. Opt for simple patterns; Combining intricate patterns can make a room look overcrowded and unattractive.
Vastu Tips For Master Bedroom Design Ideas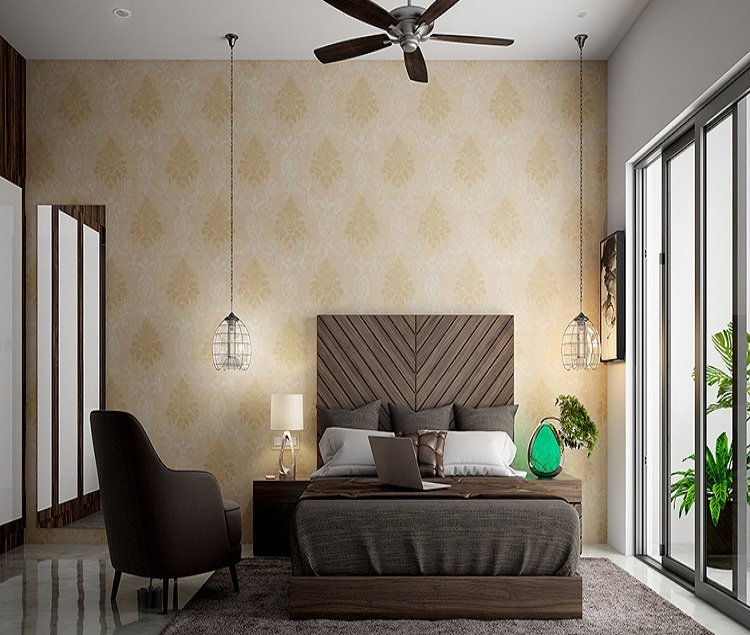 Vastu, he says, can help keep you positive as well as optimize your living space and life. Even people who are not firm believers in the principles of Vastu Shastra follow them when they understand the type of organization and utility of spaces that Vastu helps them implement. Your bedroom is one of the most important personal spaces in your home. Let us see how Vastu can transform it into a place of rest, relaxation, and rejuvenation.
1. Direction and Location of the Bed as Per Vastu
According to Vastu, placing the bed in the master bedroom is important as it affects the quality of sleep and the health of the family. As per Vastu, the best position to sleep in the master bedroom is either South or West. When you lie down, the bed should be placed against a wall in the south or west so that your feet are facing north or east. Avoid placing your bed in the corner of your bedroom as it prevents the positive energy from flowing freely. According to Vastu, the position of the bed in the bedroom should be along the middle of the wall so that there is enough space to move around.
2. Arrangement of the Bed and Bedding in the Master Bedroom
A headrest should always be present in your bed design. Avoid keeping an irregularly shaped bed in the room, even if it is round or oval. In this regard, a square or rectangular shaped bed is always better. Pink or red bedding should be used as it represents romance and passion. The throw and duvet can be red, and the white sheets and coverlet can be pink for color balance.
3. Master Bedroom Ceiling
The ceiling height of the bedroom should ideally be 10 feet, but not too low, as this can lead to poor air circulation. Avoid false ceiling designs that are asymmetrical or have pointed triangles hanging from them, as these can cause mental stress and insomnia. A good ceiling is one that is high in the center and low at the corners. Mirrors should never be used on ceiling designs as they can reflect the bed. According to Vastu, the ceiling should be white or light colored as it attracts positive energy and leads to peace.
4. Windows, Doors, and Cupboards in The Bedroom
Keep the door of the attached toilet closed when not in use. Bedroom doors should not break and if so, they should be fixed as soon as possible. Remember to follow Vastu guidelines while installing the master bedroom wardrobe or other bedroom storage cabinets. If you have an almirah, place it on the south/west wall. According to Vastu Shastra, cash and jewellery should be kept in the north direction, as it is the direction of Lord Kuber. Cupboard doors should never face the toilet wall or seat. The cupboard or wardrobe should be pale yellow, white, cream, beige or light brown. Dark colors absorb negative energy and should be avoided.