Best Pooja Shelf Ideas & Simple Pooja Almirah Designs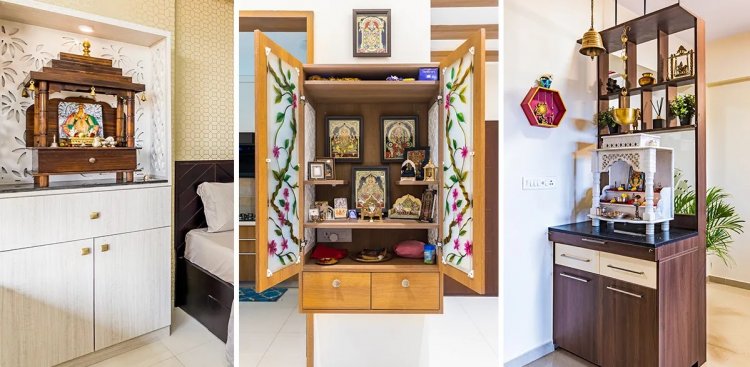 Almost everyone wants to have a holy Puja Almirah or shelf in their home. It is a sacred place for daily prayers and offerings to the deities, and a great addition to improve the atmosphere of the home. At the same time, these functional and beautiful places are a reminder of one's spiritual beliefs and add a touch of elegance and calmness to any room.
With so many different types of cupboards and shelves out there, it's easy to find one that fits the style and design of your home. Whether you prefer a traditional wooden temple design with intricate carvings or a sleek and modern shelf made of glass or metal, you are bound to find one to suit your taste and budget.
You can experiment with different puja shelf layouts to best arrange your assortment of idols in your temple. This blog explores some unique and creative puja shelf and puja almirah ideas to help you create a beautiful and functional sacred space in your home. From traditional designs to contemporary styles, there is a pooja shelf and wardrobe idea for everyone.
Pooja Shelf and Pooja Almirah Design Ideas
Here are some latest pooja almirah and Pooja Room design ideas. You can create enough space in your home for your deities with these beautiful and simple puja shelf and cupboard ideas.
Minimalist Pooja Wardrobe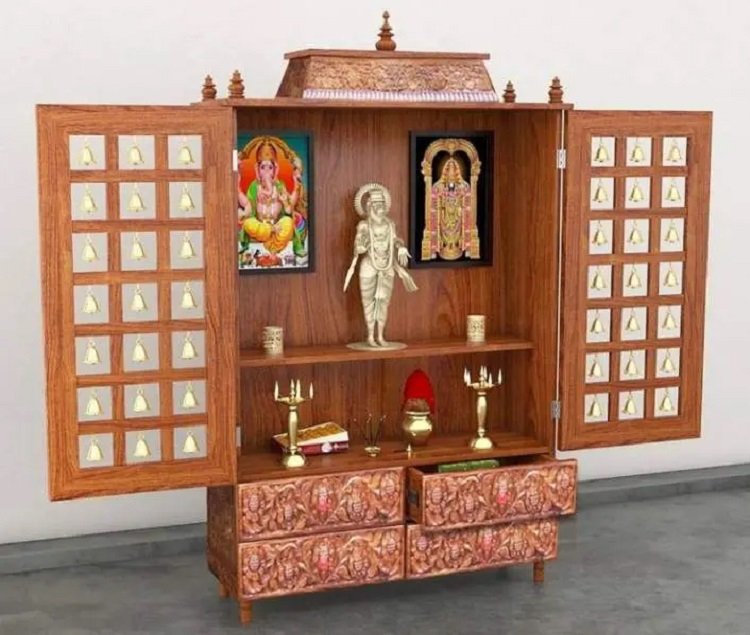 For those who prefer a clean and simple look, this minimal pooja cabinet is perfect. The focus is on clean lines and a lack of ornamentation, resulting in a sleek and modern look. These wardrobes have been designed to blend seamlessly into any home interior, regardless of style.
Pooja almirahs with minimalist designs are usually made from low-maintenance materials like MDF or metal, and come in simple finishes like white or black. The doors are usually plain or have a simple design such as a cross or other religious symbol. The shelves and drawers are functional, providing ample space for worship items.
In terms of size, wardrobes with a minimalist design can range from small, compact designs suitable for apartment living to more elaborate wardrobes that can accommodate many items. The size of the wardrobe will depend on the space available and the number of things to be stored.
Wall-mounted Pooja Shelf and Cupboard:
If you have limited space then consider a wall-mounted pooja shelf or almirah. It is a great option for those who want to save floor space and add a modern touch to their homes. This type of shelf or cupboard is attached to the wall which frees up floor space and adds an interesting design element to your room.
Wall-mounted pooja cabinets come in a variety of sizes, materials and styles. Some of the popular materials used include wood, MDF and metal etc. They can also be designed with glass doors, providing visibility of the items stored inside, or with solid doors for privacy. Some wall-mounted wardrobes come with multiple shelves, making it easy to store and organize things. You can also look for a puja shelf or almirah with intricate carvings or a unique shape to make it a focal point in your space.
Built-in Pooja Shelf and Almirah:
If you have a large space and want to create a more integrated look then consider a built-in puja shelf. They are designed to blend seamlessly into a room's interior to create a cohesive and streamlined look. Built-in worship cabinets and shelves add value to a home, as they are permanent fixtures that become part of the architectural composition of a room.
They are often designed with glass or solid doors to keep items secure and out of sight. The shelves and drawers are adjustable, allowing for easy organization and storage of puja items. Built-in worship cabinets and pooja cabinets can be made from a number of materials including wood, stone, or concrete and come in a variety of sizes and styles to meet the specific needs of a space.
Hanging Pooja Shelf
Hanging Pooja Shelves are a great option for those with limited space. The shelf is suspended from the ceiling or wall and is a functional addition to your room. They are convenient and stylish to store and display puja items in the home. The cabinets can be designed with glass or solid doors and have intricate carvings. You can custom-paint the piece to match the surrounding home decor.
The Hanging Puja Shelf is designed to be lightweight and sturdy, making them safe and secure for storing puja items. Hanging pooja shelves are functional and add a decorative touch to a room. Hanging puja can be used to display objects of worship, such as statues and vases, or to store items that are not frequently used.
if you what to know more about our pooja room desgin Idea follow us on instagram.