Bedroom Interior Design Ideas - High on Style and Comfort
Bedroom Interior Design Ideas
Creating a perfect bedroom interior is not just about the color and furniture used in the bedroom. Several elements play an important role in setting the atmosphere in your cozy boudoir. Check out these remarkable bedroom interior design ideas that ensure a perfect blend of beauty, comfort and functionality.
Your bedroom should be a serene oasis to which you return after a tiring day at work. Thus, it is essential to leave no stone unturned in designing this space and imbuing it with relaxing and stylish vibes. Whether you prefer an ultra-sleek minimalist style for your bedroom or love to play with shelves, lamps, pendant lights, wallpaper and other decorative items, you've come to the right place. From an all-white bedroom theme to a modern rustic decor scheme, you'll find a range of styles in our stunning bedroom interior design collection.
Bedroom interior design ideas
Check out these stunning bedroom interior design ideas that will not only create a sophisticated and serene aura in your cubicle but will also add flavor to your home decor.
1: Magical Monochrome
Monochrome found its way into modern homes a long time ago. Paint the accent wall of your boudoir in a dark matte finish and choose to design the floor with bright white tiles. The black headboard and patterned black and white bedding complement the heart accents on the bed, while large luxury planters infuse richness within the decor.
2: Wood Blast
Wood is a staple in modern bedroom interior design, and there's no denying that. The bedrooms, with wood panels on the wooden floors and black accent wall, complement each other and inject a truly rustic feel into this contemporary interior. Glamorous mirrored wall accents in gold and a modish pendant light play the style game right and catch the eye instantly. A bed made of soft bristles and a subtle sliding wardrobe complete the look of this space.
3: A Rainbow Punch
Let Rainbow sing a love song in your cozy boudoir! Create a beautiful, colorful decor with vibrant colors on bedding, floor and wall art. The brick accent wall brings an 80s flair to this bedroom's design, while the parquet and classic pendant lighting make a perfect combination to inject a soothing, rustic vibe into the decor.
4: Mirror Minimalism
Mirrors are a great way to create the illusion of space in a compact bedroom. Place a tall mirror on either side of the bed, and enhance the subtlety of your bed with a collection of wall-mounted frames. Place a settee in brown velvet upholstery and a few pillows in a bold velvet finish to add a sense of glam to this simple bedroom design.
5: leather shine
A glamorous bedroom design helps add to the luxury of your modern home decor. You don't need a complete makeover to get that pizzazz—just a few ingredients, and you're solved! A leather bed is enough to cast a luxurious vibe, while a classic mirrored decorative accent on the wall, a stylish patterned mat and the incorporation of sheer drapes add to the royalty of the decor.
6: A Scandinavian Flair
The Scandinavian bedroom theme is a design characterized by simple and clean lines, minimalism and functionality. If you like to keep the decor subtle, choose white, beige and light gray for your bedroom theme. Add a sleek and sophisticated wall painting and work with minimalist accessories such as classic tree decorations and delicate pendant lighting to complete the look of your Scandinavian bedroom. If you want to buy designer bedroom furniture online then you can visit Casawoods website.
7: The false ceiling steals the show
False ceilings found a place in modern homes a few years back and are still in trend. You can fill your simple bedroom decor with luxury vibes by installing a false ceiling in your bedroom. The classic hanging lights complement the LED false ceiling lighting perfectly. The beige-brown color theme combined with the soft furnishings create a relaxing atmosphere that promises a restful sleep.
8: Pastel Plush
Pastel colors add an instant dose of beauty, glamor and vibrancy. Choose a pastel pink to paint your bedroom's tin accent wall, and throw the same shade on your bed and nightstand. The concrete ceiling blends well with this cheerful hue and brings out earthy and luxury vibes. Traditional bulb-style lighting and sheer curtains add to the charm of this bedroom's decor.
9: The Elegance of the Chandelier
A completely neutral theme isn't limited to minimalistic interiors—it also holds true for glamorous home decor. While glossy silk bedding and a velvet headboard look straight from a luxury interior design magazine, a giant golden chandelier hanging over the false ceiling is the eye-catching feature of this bedroom theme.
10: A Touch Of Tradition
You can never go wrong with a traditional and primary theme for your bedroom. Choose cool colors like white, beige and soft blue to incorporate into your boudoir and place a four-poster bed to achieve that rich vintage vibe in the décor. A subtle settee, a printed carpet and a traditional chandelier work well in this theme, while colorful wall paintings and sheer window drapes correct the aura for a relaxing retreat.
It was all about bedroom interior design ideas. Read on to learn about some tricks to beautify your small bedroom and different types of bedroom wardrobes.
11: Three Color Combinations
The combination of three colors gives a colorful twist to your modern bedroom interior design. Where the warm teal green color emphasizes the setting, the black and gray shades highlight the focal point of the room. It also complements the bed and enhances the look of the space. You can always replace these with colors that suit your own taste and aesthetics.
12: Statement Lights
Good lighting is as essential to your health and vision as it is to the beauty of your bedrooms. The secret to a well-lit bedroom is to invest in several statement lights, which enhance the aesthetic of the room.
You can seamlessly combine ambient, decorative and task lighting to make a statement lighting in the bedroom. So, if you want something more, mix two contrasting colors that are not too harsh on the eyes. It will also give a stylish and attractive look to your bedroom.
Tips to enhance small bedroom interior design
Learn below some tricks to design your small bedroom without investing much money:

Stick to a limited color scheme because incorporating too many colors in a compact space can make the room seem overcrowded and unappealing to the eyes.

Don't mess with different window treatments. Keep them to a minimum, and let the light enter your little cocoon. Hang flat lace panels or add plain roller blinds in your bedroom to add some privacy.

Install floor-to-ceiling fitted storage units to make the most of every inch in the room and bring an organized feel.

Add some decorative mirrors in your bedroom, if possible, to create the illusion of space.

Bring practicality with a storage headboard that not only enhances the look of your bedroom but also serves as an ideal storage solution.

wardrobes for bedroom interior design
Here are some of the most common types of wardrobe that you can consider in your modern bedroom design:
1. Hinged Wardrobe:
A hinged wardrobe is a standard wardrobe solution that comes with hinged doors and is ideal for large bedroom spaces. It is easily lockable and the most versatile wardrobe option.
2. Sliding Wardrobe :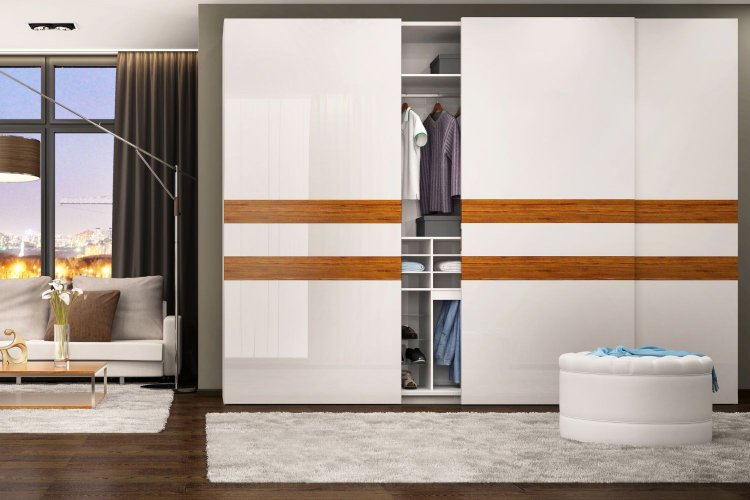 Sliding wardrobe designs are very much in trend these days. They resemble a modern take on the traditional hinged-door style wardrobe. The wardrobe can be designed with two to four doors, is available in different materials and does not take up much of your space.
3. Mirror Wardrobes: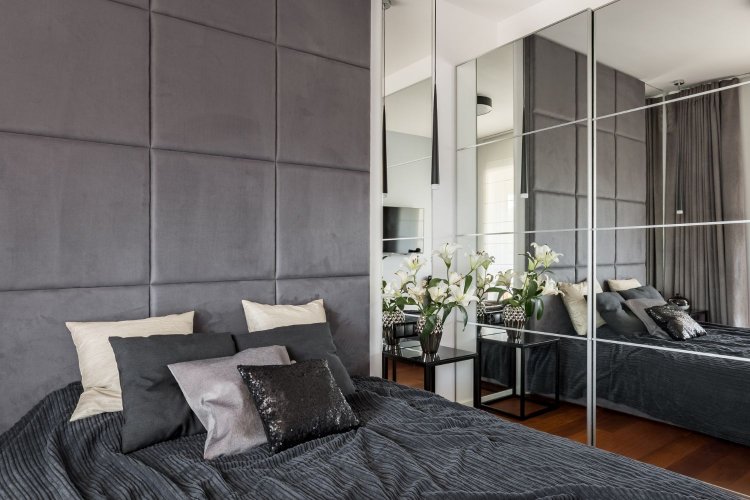 Mirror wardrobes are a great way to enhance the visual appeal. They create the illusion of space, brighten up the room by reflecting natural light and add an extra dimension to the bedroom design with their glamorous vibe.
Avoid mistakes in decorating your bedroom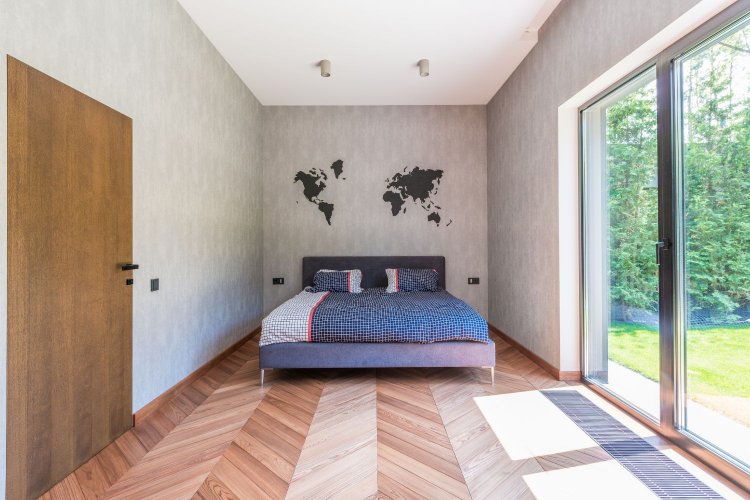 Bedrooms are often overlooked when planning a home renovation or, let's say, the living room and kitchen are given importance after. Here are some major key mistakes we make when designing our bedrooms, and we should avoid them:
Organizing furniture in a clumsy way: We often arrange our furniture in a strange way which can invite negative energy according to Vastu. Furniture should be arranged according to the principles of VastuShastra to improve the flow of positive energy.

Overlook Storage: Since the bedroom is a place to rest, more attention is paid to comfort when renovating. However, we should consider designing a spacious wardrobe with enough space for bags, shoes, coats, extra linens and trolley bags.

Forgetting the lights: The bedroom is the place to sleep where we spend most of the time in the dark; Thus, we don't pay much attention to the lighting. However, it is necessary to keep it well illuminated. Think about proper lighting for your dressing area, a task light for reading and a dimmer for staying cool.

Investing in the Wrong Bedside Table: You may think that it is not important to consider your bedside table while designing the interior of your bedroom. But its dimensions really make a big difference to your comfort. Invest in one the same height as your mattress for easy access to the things you need at night.

Designing a Workspace Near the Bed: Most of us have a work desk in our bedrooms. However, it is important to note that your work area should not dominate the space. It should not be too close to the bed because you deserve separate work and rest.